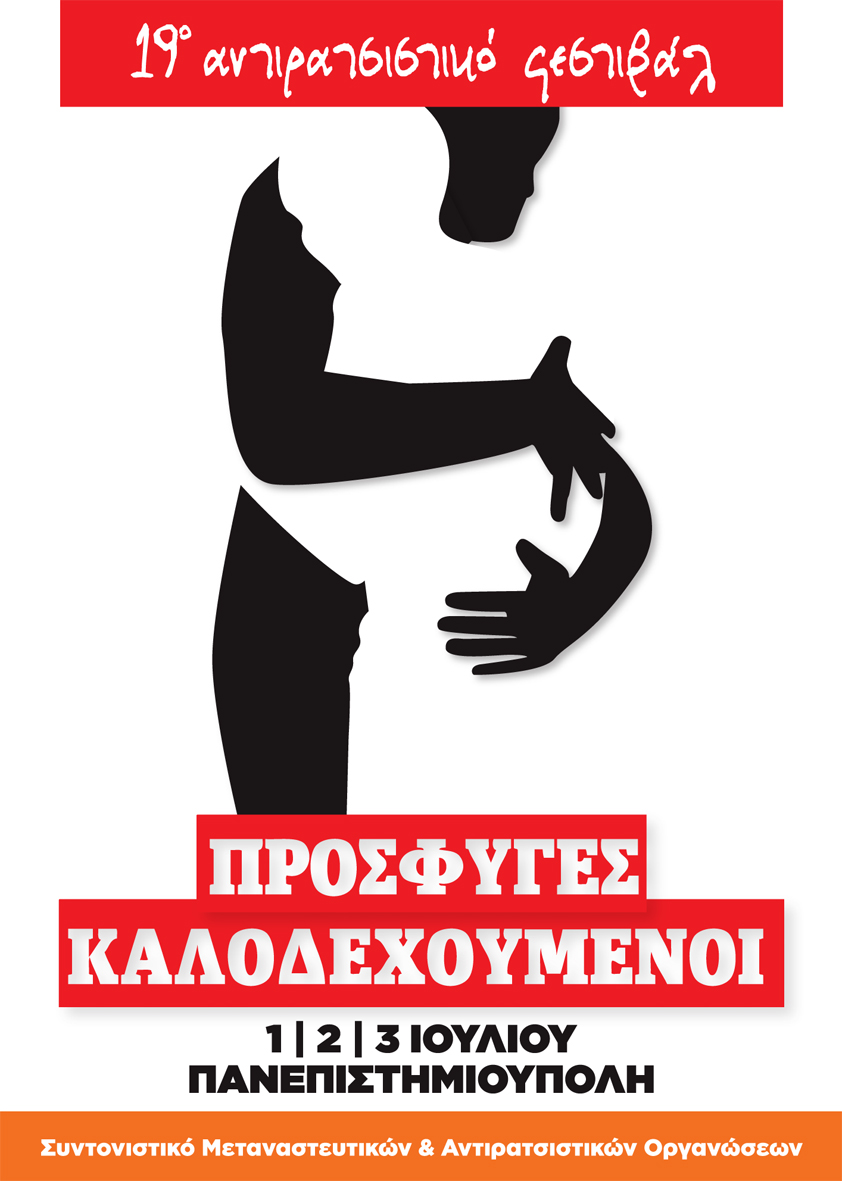 1,2,3 Ιουλίου 2016 -Πανεπιστημιούπολη Ιλίσια
«Πρόσφυγες Καλοδεχούμενοι»!
Το Αντιρατσιστικό Φεστιβάλ Αθήνας επιστρέφει μετά τη… δικαιολογημένη περσινή απουσία του λόγω του δημοψηφίσματος. Έτσι κι αλλιώς, την εικοσαετία που πέρασε από την πρώτη του διοργάνωση, το Φεστιβάλ κατάφερε να γίνει το μεγάλο ραντεβού του αντιρατσιστικού κινήματος, μια τριήμερη γιορτή της ενότητας μέσα από τη διαφορετικότητα.
Ειδικά φέτος όμως, το Αντιρατσιστικό Φεστιβάλ πραγματοποιείται σε μια συγκυρία όπου το προσφυγικό ζήτημα βρίσκεται στην πρώτη γραμμή της επικαιρότητας. Η διόγκωση του προσφυγικού κύματος, το κλείσιμο των συνόρων, η συμφωνία της ντροπής ΕΕ-Τουρκίας, η ουσιαστική κατάργηση του ασύλου
, οι απελάσεις, τα κέντρα κράτησης, οι απαράδεκτες συνθήκες «φιλοξενίας» των προσφύγων και τα απομονωμένα στρατόπεδα αποτελούν τις βασικές ψηφίδες της κατάστασης όπως αυτή έχει διαμορφωθεί.
Απέναντι στην αντιπροσφυγική πολιτική κυβέρνησης-Ε.Ε., αντιτάσσουμε τη βούλησή μας να ζήσουμε μαζί με τους πρόσφυγες, να κατοικήσουμε στις ίδιες γειτονιές, να πάνε τα παιδιά μας στα ίδια σχολεία. Να αγωνιστούμε όλοι και όλες για τα κοινά αιτήματα της αξιοπρέπειας ενάντια στο ρατσισμό, τη φτώχεια και τη μνημονιακή λεηλασία.
Το 19ο Αντιρατσιστικό Φεστιβάλ Αθήνας με τις συναυλίες, τις συζητήσεις, τα θεατρικά δρώμενα, τις εκθέσεις, τον παιδότοπο, τις πολυεθνικές κουζίνες του στέλνει ηχηρό μήνυμα αλληλεγγύης και συναδέλφωσης.
Όσους φράχτες και αν σηκώσουν, εμείς θα ζήσουμε μαζί!

Συντονιστικό Μεταναστευτικών και Αντιρατσιστικών Οργανώσεων
Το μουσικό πρόγραμμα του Φεστιβάλ ανά ημέρα. Οι συναυλίες και της Κεντρικής και της Μεταναστευτικής Σκηνής αρχίζουν στις 9.30 μ.μ.
Μουσικοχορευτικό από τη Γεωργιανή κοινότητα
Refugees Music band (πρόσφυγες από το Ιράν και το Αφγανιστάν)
Mike Jamore
DJ Theo
From A to Z
Hydraulic Cupcake
307 Jam Squad
Κυνηγημένες Ψυχές
Αετοί – Πολυφωνικά τραγούδια και χοροί από την Αλβανία
Βήμα & Nps & Βρώμικη Εκδοχή
Refpolk – Daisy Chain – Miss Zebra
Renovatio
Ράδιο Σολ
Σάλια Μπάλια
Mandela Girls
Las Galoperas de Atenas
Martha Moreleon & Los Del Sur
Rose Wood: χορός-τραγούδια από τη Μαδαγασκάρη
Πολιτιστικός Σύλλογος Κουρδιστάνone μου
Sam Roma
Αγγελική Τουμπανάκη & the Buzz Bastardz
Afro-cargo + dancers
ΟΙ ΣΥΝΑΥΛΙΕΣ –Χώρος Ρεμπέτικου
Παρασκευή 1 Ιουλίου:
Σαλταδόροι
Σάββατο 2 Ιουλίου:
Εντροπία
Κυριακή 3 Ιουλίου:
Rebetien
Info
19ο Αντιρατσιστικό Φεστιβάλ Αθήνας: 1,2,3 Ιουλίου 2016 –Πανεπιστημιούπολη, Ιλίσια
Είσοδος:
5€ ανά ημέρα | 10€ για όλο το τριήμερο
Ώρα έναρξης συζητήσεων:
7.00 μ.μ.
Ώρα έναρξης συναυλιών:
9.30 μ.μ.

Περισσότερες πληροφορίες για τις συναυλίες, τις συζητήσεις και το υπόλοιπο πρόγραμμα του Φεστιβάλ σύντομα στο www.antiracistfestival.gr.